Walk Away with a Smile & Healthy Mouth
Your First Dentist Appointment at Covington Dental
You can expect to see friendly faces when you walk in to Covington Dental, and you can expect to walk out with a beautiful smile. Our staff will get to know you and your family so we can ensure your first visit, and every visit after, is comfortable and meets your expectations.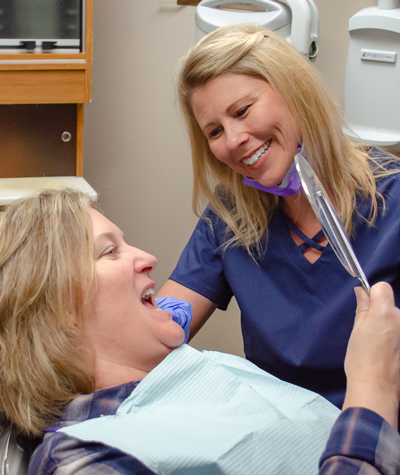 What to Expect at a Routine Dental Exam
During a routine dental exam, you can expect Dr. Stueve and your hygienist to:
Thoroughly clean your teeth, remove plaque, tartar and stains, professionally polish and floss your teeth and provide a flouride treatment
Examine your mouth and teeth for overall health and oral hygiene
Evaluate your teeth and gums for cavities, decay, inflammation and disease
Check your bite and jaw for problems
Check the health of any restorative dentistry, such as implants, bridges, crowns and veneers
Take a diagnostic dental X-ray
Demonstrate proper cleaning techniques for your teeth or dentures
Will I need to fill out paperwork?
At your first dental appointment, you will be required to fill out a new patient form and provide your dental history. We ask that you please arrive 15 minutes early for your first visit to allow time to complete the forms. You can also download and fill out the forms ahead of time by clicking below.
What insurance is accepted?
We're a part of the Superior insurance network, and we do accept most PPO plans.
Hours and Location
We schedule dental appointments on Mondays, some Tuesdays, Wednesdays and Thursdays. Our appointment hours are:
Mondays, 7:30am-5 pm
Select Tuesdays, 7:30am-1pm
Wednesdays, 8am-5:30pm
Thursdays, 8am-5pm
We are located on Mote Drive in Covington, Ohio, next to The Stillwater Skilled Nursing and Rehabilitation (formerly Covington Care Center), with easy access off both state Routes 41 and 48.

"Covington Dental was welcoming the second I walked in the door! The office manager was a huge help setting up my information, especially with insurance. Dr. Stueve actually spent time with me looking things over and answering all of my questions. I could tell that it is a wonderful work environment as there was chatter and laughter throughout the office. I would highly recommend!"